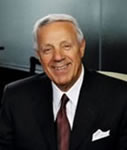 Mr. Ortenzio launched his first charitable foundation in 1986 largely to assist students, families and Catholic educational institutions in the Harrisburg, Pennsylvania region. The Ortenzio family's philanthropic efforts have greatly expanded over the years and are among the most active in Central Pennsylvania. The Rocco and Nancy Ortenzio Foundation is dedicated to improving our communities through stronger health care and education opportunities. Mr. Ortenzio is a distinguished health care executive and leader who founded four start-up companies, took all of them public, and grew each one into a successful and well-respected corporation.
Select Medical (NYSE) (1996 to Present)
Continental Medical Systems, Inc. (NYSE) (1986 to 1995)
Rehab Hospital Services Corporation (NASDAQ) (1979 to 1986)
Rehab Corporation (NASDAQ) (1969 to 1977)
Presently, Mr. Ortenzio serves as Vice Chairman of Select Medical. He also is Chairman of Select Asset Management & Trust Company, which manages the assets of high net worth individuals and institutions. Throughout his impressive career, Mr. Ortenzio has received numerous awards and special recognitions, and has been the subject of business profiles appearing in The Wall Street Journal and Forbes magazine and locally, within the Central Penn Business Journal.