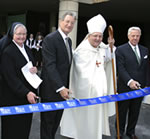 Mr. Ortenzio is widely known for his philanthropy and has always had a strong belief in the importance of community, as it is the place where people live, work and raise families. His belief is that a community can only be as great as its individual and corporate residents make it. This has been a lifelong mindset for Mr. Ortenzio, as evidenced by The Ortenzio Heart Center at Holy Spirit Hospital, the Select Medical Digital Cinema at Whitaker Center for Science and the Arts, and the Select Medical Training Center at Junior Achievement. Mr. Ortenzio and his family also lent support for a new, freestanding children's hospital building, which opened in 2013, at Penn State Milton S. Hershey Medical Center.
Giving back through philanthropy and volunteering are pillars of his commitments, because he wouldn't be where he is today without the help he was given, Ortenzio said. "I hope to give those who may never get a chance the possibility of one," he said. - Central Penn Business Journal
Powerbook
(
read the entire article
)
Mr. Ortenzio's active presence and giving nature served as the inspiration for Select Medical C.A.R.E.S., also known as the Caring & Responsive Employees of Select Medical. This employee-run group proactively identifies and encourages employee participation within the community. Through C.A.R.E.S., Select Medical employees regularly give of their time and energy, and have made a positive difference for a wide range of organizations including: the American Heart Association, the Ronald McDonald House, Salvation Army, Big Brothers/Big Sisters, the American Red Cross, Habitat for Humanity and many more.
In November 2011, Mr. Ortenzio was recognized for his lifetime of giving and philanthropic efforts in a Philanthropy feature article within Central Penn Business Journal's Powerbook.